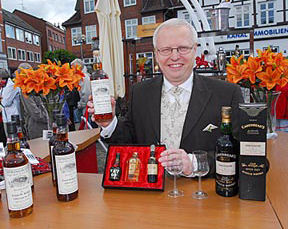 Dear whiskey connoisseurs and collectors,
I have been collecting miniature whiskey bottles since 1974.
I started collecting large bottles of whiskey in the 1980s. My main interest is in paper boxes containing original single malts, US whiskeys from the Prohibition era, German whiskeys and a bottle of whiskey from each country in this wonderful world.
I stopped my collection in 2000 by only adding items that were produced before 2000 as I feel the old bottles have more character in quality and packaging.
 
1994 means a lot to me. It was the year I opened the whiskey gallery in Rendsburg. Since that opening year, I have imported more than 170 different malts and rums to Rendsburg. In 1997 I started Whiskyauction.Com with my collector friend Mr. Klaus Rosenfeld to help other collectors to get real and rare whiskeys for their collections.
 
My second whiskey museum was created in Holzbunge in 2016 with the aim of showing whiskey drinkers and collectors the important quality characteristics of uncoulered, non-chill filtered and floor malted barley whiskies. Over 1000 whiskeys are on display here to show the possibilities what types of whiskey collections are possible.
EIDORAly yours
Thomas Krüger